If we tax fossil fuels – making them more expensive – then the awesome power and creativity of the free market will create diverse alternatives and efficiencies with minimal additional government intervention. We will ultimately save money, be healthier, and slow the irreversible transformation of our climate.
Every year we extract billions of tons of hydrocarbons from the ground and from forests and burn them. Not surprisingly this has added
hundreds of billions of tons of CO2 to the atmosphere and the oceans. CO2 in the atmosphere traps heat, and CO2 in the oceans makes them more acidic. Because of all this the glaciers and icecaps are melting, temperatures and ocean levels are rising, and corals are dying. Exxon's scientists warned about this in 1982, but like other oil companies has continued funding climate-change denial. When the situation is bad enough to lead Bill Nye to drop the f-bomb then maybe we should pay attention.
Hydrocarbons are a dense and cheap source of energy. These convenient attributes gives individuals strong incentives to use hydrocarbons, but when seven billion people do the convenient thing the consequences are disastrous. It is a classic tragedy of the commons.
When doing the wrong thing is individually beneficial but collectively disastrous, and invoking Kant isn't working, then we either need to prohibit the problematic action, or tax it. Prohibiting fossil fuels is impractical, but taxing them can encourage efficiency and alternatives, get people to pay the real costs, and lead us to a more sustainable future. Taxing fossil fuels is the fairest way to ensure that those who consume the most fossil fuels pay the most for the damage which these fuels cause, and can help finance a weaning off of them.
I didn't think I'd have to say it, but apparently I do. Human-caused increases in atmospheric CO2 are real and they are causing global warming and other problems. If you want to debate that then you need to go somewhere else. This post is for debating what to do about it. Comments that deny the scientific reality will be deleted. My blog, my rules.
Proposal
The best way to encourage humans to use less fossil fuel is to tax the extraction or burning of carbon, as soon as possible, with a commitment to gradually raising the tax.
If the graph below doesn't alarm you then you need to look at it more closely: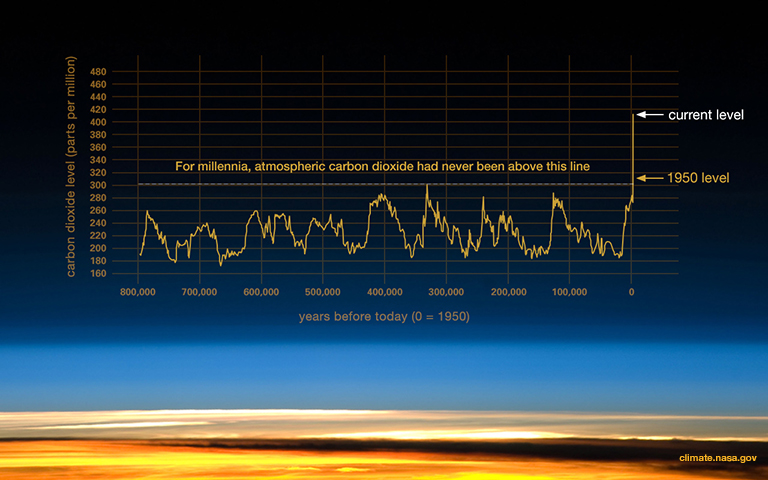 Every day we make little decisions that affect how much energy we use. We can set the air conditioner to 74 degrees, or raise it to 76. We can walk, drive, carpool, or drive alone. We can decide whether to buy solar panels, whether to buy a Prius or a Suburban, where to live, and whether to insulate the attic. All of these choices affect how much energy is consumed, and therefore how much carbon is emitted, and all of these choices are affected, to some extent, by the cost of energy. If energy is more expensive then we will naturally be more careful in how we use it.
In particular, if consumers knew that fossil fuels were going to continue to get more expensive then they would demand more efficient cars, turn off some outdoor lights, buy LEDs, and turn down the heat when not at home. In some cases these choices – choosing an efficient car instead of a gas guzzler for example – will actually save money.
Gasoline where I live currently costs about US $3 a (US) gallon. Gasoline is not the only fossil fuel that would need to be taxed but it is probably the one for which we have the most intuitive pricing sense. I think that we need to do something like an immediate $0.25/gallon tax on gasoline (overdue, since the US federal gas tax was last increased in 1993), with a promise that this tax would go up by an additional $0.25/gallon every six months for several years. After 5.5 years and twelve bumps, the price of gas would double; if the increases continued for the subsequent twelve years, the price would double again. Proportionate increases would be needed for coal, natural gas, and other uses of petroleum, and care would need to be taken to avoid penalizing the poor (more on this later).
A US gallon of gas (6.3 pounds) generates about 20 pounds of CO2 when burned, so 100 gallons generate one ton of CO2. Therefore a $0.25 tax on a gallon of gasoline is equivalent to a tax of $25/ton of CO2.
I'm not claiming that this is the magically correct tax amount – it's higher than most proposals – but I think that it is thematically correct and necessary. That is, while the initial increase should be fairly modest, there needs to be a promise of future increases so that consumers and governments can plan and invest appropriately. Maybe the $0.25 increase should be yearly to give people more time to adjust, or maybe there needs to be a bigger initial boost to pay for efficiency improvements. The important thing is to start taxing carbon, and keep increasing the tax.
A carbon tax can easily be designed to be revenue neutral. It could, if desired, be designed so that all of the tax revenue is returned to residents as a per-capita rebate. The average rebate would exactly match the average amount paid, and those who used less fossil fuel or made changes to improve efficiency would come out ahead – their rebate would be greater than the carbon tax that they paid, subsidized by those who consume more.
Some of the carbon tax could be earmarked for helping consumers reduce their energy usage. This could include improving public transit, reducing transit fares, subsidizing electric bicycles, rebates for home insulation, etc. These rebates would help consumers adjust to a world where energy is not implausibly cheap, and could actually leave some people with lower power bills. Currently we subsidize cars by providing free parking and roads (no, the federal gas tax doesn't pay for all this) – which leads to congestion and parking shortages. We would be wiser to subsidize things that reduce congestion and pollution instead.
Many proposals on how to use carbon tax revenue have been made – see here for an example.
While some may argue that a carbon tax is expensive, the alternative is to continue irreversibly damaging the climate and flooding coastal cities, which will end up costing more, paid mostly by our children and grand-children.
But, carbon taxes are too expensive!
A carbon tax would, by design, increase the cost of fossil-fuel intensive activities. However, there is no reason for it to make the cost of living higher, and over the long run it would actually save trillions of dollars.
When gas prices suddenly go up by a dollar a gallon then the US economy frequently dips into a recession. It is natural to worry that a carbon tax would have the same effect. It won't. The reason a price spike hurts the economy is because it takes billions of dollars from consumers and small businesses and sends it to OPEC, or to the profits of huge multinational oil corporations. A tax keeps the money where it can be returned to consumers or put to productive use.
But, carbon taxes are regressive!
The wealthy are the most responsible for climate change, but the poor bear the majority of the costs. It is critical that we not repeat this injustice when we create a carbon tax to slow down climate change.
Rich people burn more carbon than poor people, but poor people typically spend a higher percentage of their income on carbon consumption. Therefore a carbon tax risks being regressive – disproportionately being a burden to the poor. This is a serious concern, and it must affect how we implement a carbon tax, but it cannot prevent us from implementing a carbon tax.
There are innumerable, workable ways to help poor people (free at point-of-use health care, better public transit, guaranteed basic income). Taxing pollution could fund these programs, making a carbon tax net-progressive.
The Canadian federal carbon tax gives per-capita refunds to keep it revenue neutral, with some provinces returning most of the carbon tax revenue as rebates for low-income families, ensuring it is not a regressive tax.
And, if avoiding regressive taxes is truly the goal then we should just eliminate sales taxes and replace them with increased capital gains, income taxes, or wealth taxes, separate from the question of a carbon tax, and use these to ensure that food, shelter, water, and health care are available to all – that's much better than cheap gasoline.
It's also worth noting that poor neighborhoods and poor countries are often the most vulnerable to the impacts of climate change – flooding and sea-level rise may be the ultimate regressive tax, and basic fairness demands that we address this.
Other benefits
Avoiding further altering of the entire planet's ecosystem is enough reason to cut down on our use of fossil fuels, but there are other benefits. Burning fossil fuels – particularly coal – releases tens of thousands of tons of thorium, uranium (far more than nuclear power plants), sulfuric acid, tons of mercury and lots of other nasty substances every year. Chernobyl was bad, but coal kills far more people every year than Chernobyl's total toll. Solar, wind power, and nuclear power come with their own tradeoffs and challenges but they are all orders of magnitude better than fossil fuels.
Current proposals
As people realize the importance of action there are multiple carbon tax proposals being made these days:
The Coons/Feinstein bill would start with a $15/ton ($0.15/gallon) carbon tax, raised by $15/ton every year (or $30/ton if emissions targets are not met) with 70% of the net revenues allocated as a monthly dividend to low- and middle-income Americans as a monthly dividend. A bit low, but solid, and with a good revenue distribution plan.
The Deutch/Rooney bill would start with $15/ton and go up by $10/ton every year. "The Treasury Department would return 100% of the net revenue back to the American people". Even lower, but still much better than nothing.
There is also the Baker/Shultz plan which is too weak to be taken seriously, and which wipes out climate liability for oil companies, and never puts the carbon tax high enough to change behavior.
Of the three I would most strongly support Coons/Feinstein.
Economists have been pushing for carbon taxes for almost a hundred years in order to get consumers to behave rationally. I think we should start listening, and should think about these different options.
So far most carbon tax initiatives in the US (including WA-732 and WA-1631) have failed. It may be that they were all flawed, or it may be that voters will only approve a carbon tax that is perfect, with every voter having a different view of perfection. Maybe that means we need better carbon tax bills (including transparency and accountability regarding how the funds will be spent), or maybe we need to start with something and then iterate to improve it. Personally I will vote "Yes" for almost any carbon tax proposal because when it comes to saving the planet I don't want the perfect to be the enemy of the good.
Realities
Passing a carbon tax will not be easy. Change is hard. But this change is necessary, and will have myriad benefits. More efficient cars, better insulated homes, less pollution, energy independence, and jobs in the renewable energy sector are just some of the benefits. Instead of subsidizing fossil fuels we could invest in something better. And if the United States starts taking climate change seriously (dropping out of the Paris Climate Accord means we lost credibility) then that makes it easier for the rest of the world to make more progress as well.
Climate change denial
There are some who don't "believe" in global warming. I'm not going to spend a lot of time on this but I will just note a few things:
I'm happy to debate how best to implement a carbon tax, or whether a carbon tax is even the best way to reduce CO2 emissions. Comment away. But I have no interest in debating whether CO2 is causing warming, whether that is worth addressing, or whether this blog is a good place for this post.
Summary
A carbon tax that is significant enough to affect people's behaviors, phased in over time, is required. Nothing else will produce the innovation and behavioral differences that are needed. Renewables are getting cheaper so it is a perfect time to accelerate the transition by making unsustainable fossil fuels more expensive. Maybe you'll find that getting out of the car and trying more creative commuting methods will make you happier and healthier.
Thanks to Maria and Camille for their awesome edits and suggestions which improved this greatly.